SINOPSIS
After three years in Milan, Matteo returns home to the provincial country town where he was born and from which he had fled. Coming out as a young gay man in a provincial country town had led to ugly clashes with his conservative father, and the urban metropolis of Milan had been a welcome change from the stifling small town life of his childhood and the anger and bewilderment of some members of his family. But now, Matteo finds himself with little choice but to return home, with no money, no job, and an uncertain future, like so many other young people of his millennial generation. Afraid of encountering his estranged father, he instead takes refuge with his extended family, at a house shared by his grandmother, three aunts, and his very pregnant cousin. As he tries to rebuild his life, reconnecting with the women of his family and old hometown friends, he warily confronts a few truths about the other generations of his family-from their bigotry to their love, and tolerance, and acceptance-and a few truths about himself, including his fears of confrontation and commitment.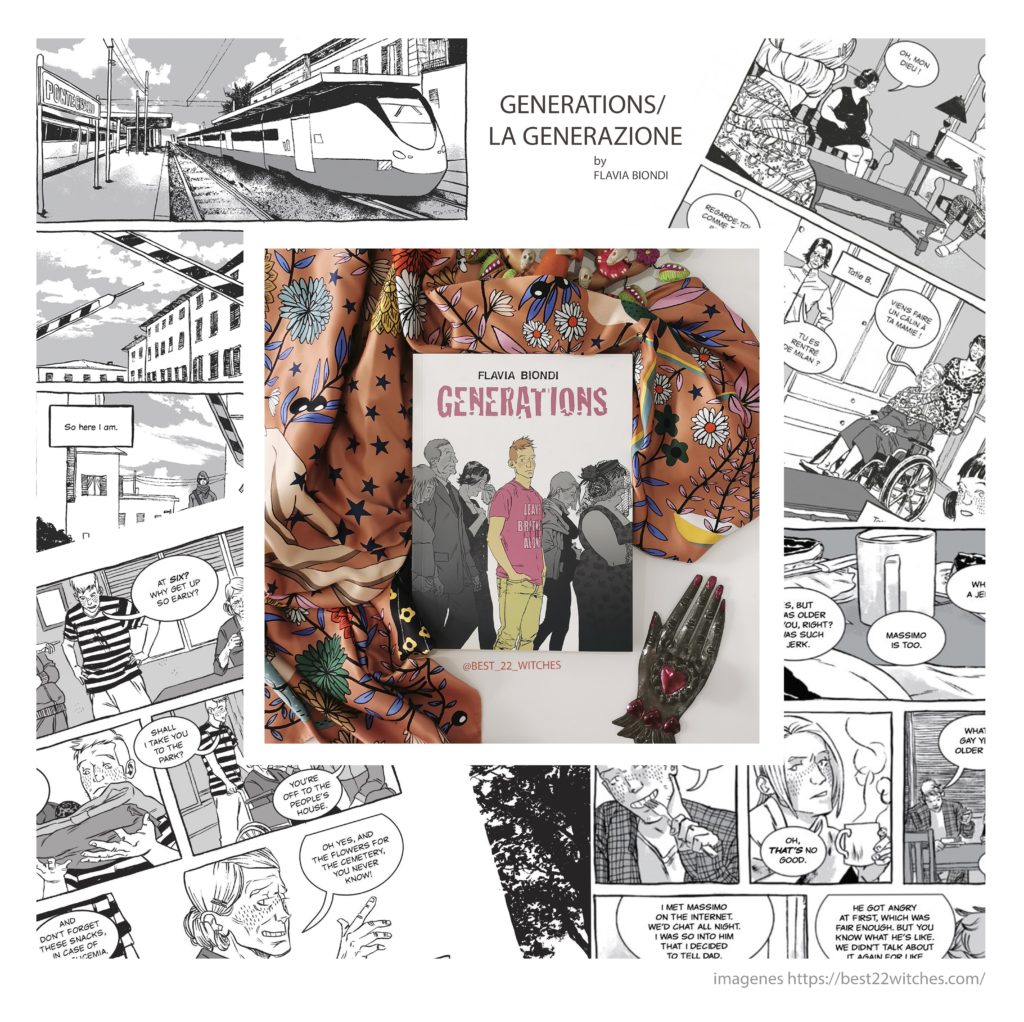 OPINIÓN PERSONAL TRAS LA LECTURA
La edición en inglés de "La generazione", es la segunda novela gráfica que leo de la autora. Desafortunadamente no hay versión en castellano, pero es muy fácil de leer así que queda totalmente recomendado por la esencia de la historia.
Una novela sobre la necesidad de entender las generaciones que te han precedido.
Para poder alzar tu propio vuelo con los valores que quizás no has sabido apreciar.
Porque fuimos jóvenes y quizás huir, y buscar lejos lo que creemos no tener, es siempre una solución fácil a un camino que es, ya de por sí difícil.
En el caso de la novela me ha resultado muy bonito el crecimiento personal de Mateo, que tras sentirse decepcionado consigo mismo, decide volver a su pueblo de la infancia. Cerca de esa familia que dejó atrás solo por creer que no lo entenderían.
Quizás estaba en lo cierto, muchos no lo hacen, pero otros tampoco han tenido la oportunidad de demostrarlo. Porque en ese momento decide huir sin mirar atrás.
Tener que cuidar de su Nan, le muestra que él tampoco ha sido capaz de escuchar las necesidades de su familia. No fue egoísta, simplemente a veces nos centramos tanto en nuestros propios miedos, que no somos capaces de aceptar la ayuda de los demás ni escuchar las llamadas de socorro…
Es una historia genial, a través de la familia, el amor y la unión de seres diferentes entre sí, pero, al fin y al cabo. Manzanas de un mismo árbol.
"This is the right way,
I'm here and it's enough,
And it doesn`t matter
how I got here."
Flavia, gracias por la tinta*

RESEÑA by Lara C. Cakmak (Gipsyqueen