SINOPSIS
Ghost World has become a cultural and generational touchstone and continues to enthrall and inspire readers over a decade after its original release as a graphic novel. Originally serialized in the pages of the seminal comic book Eightball throughout the mid-1990s, this quasi-autobiographical story (the name of one of the protagonists is famously an anagram of the author's name) follows the adventures of two teenage girls, Enid and Becky, two best friends facing the prospect of growing up, and more importantly, apart. Daniel Clowes is one of the most respected cartoonists of his generation, and Ghost World is his magnum opus. Adapted into a major motion picture directed by Terry Zwigoff (director of the acclaimed documentary Crumb), which was nominated for an Academy Award for Best Adapted Screenplay. This graphic novel is a must for any self-respecting comics fan's library.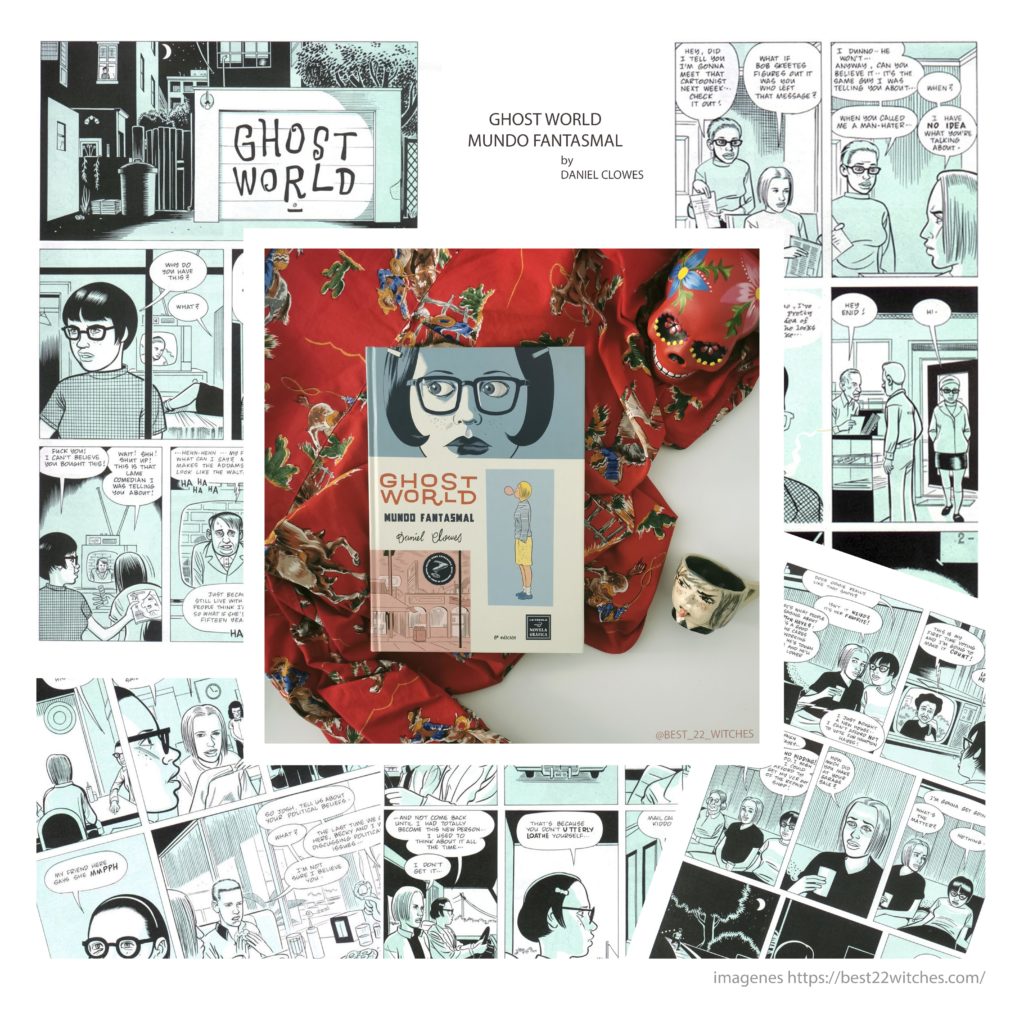 OPINIÓN PERSONAL TRAS LA LECTURA
La historia nace en la revista Eightball en 1993. Pero no es hasta 1999 cuando se lanza la primera edición de la novela gráfica por @fantagraphics
Una recopilación de 8 historias auto conclusivas en un solo tomo. Ganador del premio a la mejor novela extranjera en el salón del cómic de Barcelona en 2001. Ese mismo año también se estrenó la versión cinematográfica en EE. UU.
Ghost World es una novela para adultos, que habla de adolescentes. Nos muestra esa realidad paralela que vivimos en nuestras vidas preuniversitaria. Donde todo parece increíble y duradero, unido por patrones de desagrado en los que unos son más participes y otros más camaleónicos.
La ambientación está situada en una mezcla entre la California sureña, Chicago y Hollywood.
En estas historias, Daniel Clowes nos muestra:
A dos personajes principales Enid Colesaw y a su mejor amiga Rebecca. Que, junto a los personajes secundarios, nos darán ocho historias en la que aparte de pensar en ese mundo "fantasma y lleno de personajes mancha". Nos daremos cuenta de lo fácil que es olvidar secuencias inverosímiles, encendiendo el televisor para ver a un cómico que ni si quiera es gracioso.
Enid es la que adquiere más protagonismo. Una chica joven rebelde, a la que le gusta enfrentarse a su día a día con un tono radical y bastante dominante. Donde para ella, la sociedad es solo un teatro de marionetas, incluso el punk de los 70 lo es.
Rebecca la chica rubia de buen aspecto, con los peores gustos ante los chicos, y que suele encapricharse de casos perdidos. Tomará su camino, cerca de ese poco creíble sueño americano.
Ambas son raras y excéntricas, pero cada una en su esencia. Opuestas en el enfoque de perspectivas de cada una de las situaciones que les acontecen. Rebeca es el cisne blanco sin serlo, dejándose llevar por una sociedad idealizada y Enid el negro, aun queriendo serlo. La que acaba convirtiéndose es un ser autodestructivo en su empeñado choque contra el sistema.
Y todo eso tiene ese punto insolente, provocador y hasta desagradable, que no puede hacer otra cosa que gustarme. Mucho.
Daniel, gracias por la tinta*

RESEÑA by Lara C. Cakmak (Gipsyqueen