SINOPSIS
Catrina and her family are moving to the coast of Northern California because her little sister, Maya, is sick. Cat isn't happy about leaving her friends for Bahía de la Luna, but Maya has cystic fibrosis and will benefit from the cool, salty air that blows in from the sea. As the girls explore their new home, a neighbor lets them in on a secret: There are ghosts in Bahía de la Luna. Maya is determined to meet one, but Cat wants nothing to do with them. As the time of year when ghosts reunite with their loved ones approaches, Cat must figure out how to put aside her fears for her sister's sake – and her own.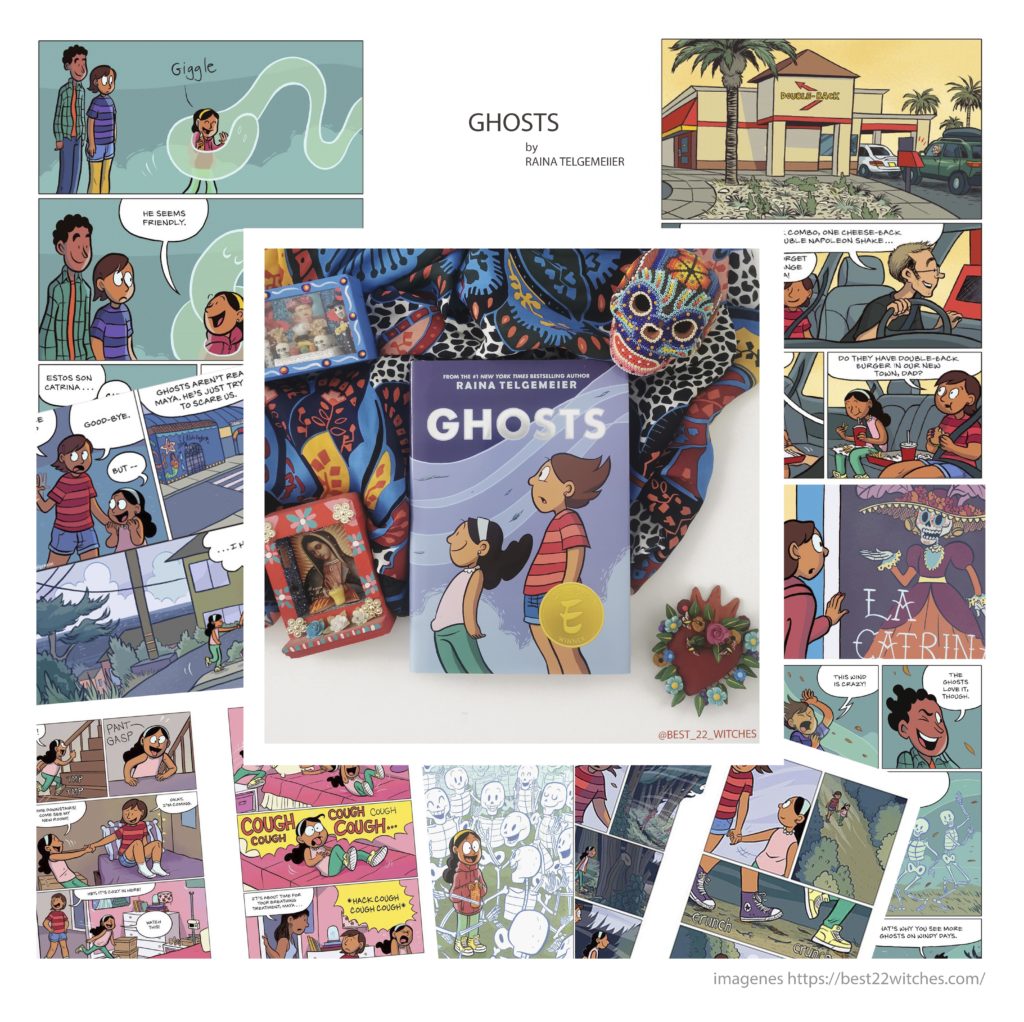 OPINIÓN PERSONAL TRAS LA LECTURA
No conocía a la autora y me ha sorprendido para bien. Tiene una forma muy bella de contar historias y envolverlas en un entorno especial.
Estoy deseando leer los otros cómics que tiene: Smile, sisters, guts…
La edición de Ghosts / Fantasmas, es genial, en cartoné e ilustrado a todo color. Yo he leído la historia en inglés, es muy fácil, sobre todo si tu nivel es bajo lo recomiendo para practicar el idioma. Pero también lo podéis encontrar en su versión en castellano.
Es un cómic infantil, pero puede leerse en todas las edades.
Las ilustraciones son geniales y coloridas, solo con las viñetas ya puedes entender la historia perfectamente.
La familia de Cat y Maya, deciden marcharse a Bahía de la Luna. Ya que Maya, la pequeña de las hermanas, sufre de fibrosis quística y el clima de la bahía es más adecuado para sus pulmones. Su familia lo deja todo para hacer una nueva vida en un lugar más húmedo, lejos del sol de california. Aunque a Cat le cueste un poco al principio adaptarse entiende que lo más importante es la salud de su hermana.
Lo que no saben es que allí van a descubrir la auténtica tradición del día de muertos. Su vecino Carlos, un chico de la edad de Cat, les va a sorprender en su famoso tour de fantasmas. A Cat no le hace ninguna gracia, pero Maya está entusiasmada creando el altar para que su abuelita venga a visitar la noche de muertos y conocer a fantasmas de verdad.
Una preciosa historia unida sobre todo al hecho de respirar.
Maya no puede respirar bien, pero los tratamientos la ayudan.
Cat, no tiene problemas para ello, pero a veces, Maya es la que le ayuda a controlar sus respiraciones cuando se pone nerviosa.
Y los fantasmas, no respiran, pero tienen vida*
La recomiendo para jóvenes y adultos con ganas de leer algo bonito y colorido.
Raina, gracias por la tinta*

RESEÑA by Lara C. Cakmak (Gipsyqueen