SINOPSIS
Two best friends. Ten summer trips. One last chance to fall in love.
Poppy and Alex. Alex and Poppy. They have nothing in common. She's a wild child; he wears khakis. She has insatiable wanderlust; he prefers to stay home with a book. And somehow, ever since a fateful car share home from college many years ago, they are the very best of friends. For most of the year they live far apart—she's in New York City, and he's in their small hometown—but every summer, for a decade, they have taken one glorious week of vacation together.
Until two years ago, when they ruined everything. They haven't spoken since.
Poppy has everything she should want, but she's stuck in a rut. When someone asks when she was last truly happy, she knows, without a doubt, it was on that ill-fated, final trip with Alex. And so, she decides to convince her best friend to take one more vacation together—lay everything on the table, make it all right. Miraculously, he agrees.
Now she has a week to fix everything. If only she can get around the one big truth that has always stood quietly in the middle of their seemingly perfect relationship. What could possibly go wrong?
From the New York Times bestselling author of Beach Read, a sparkling new novel that will leave you with the warm, hazy afterglow usually reserved for the best vacations.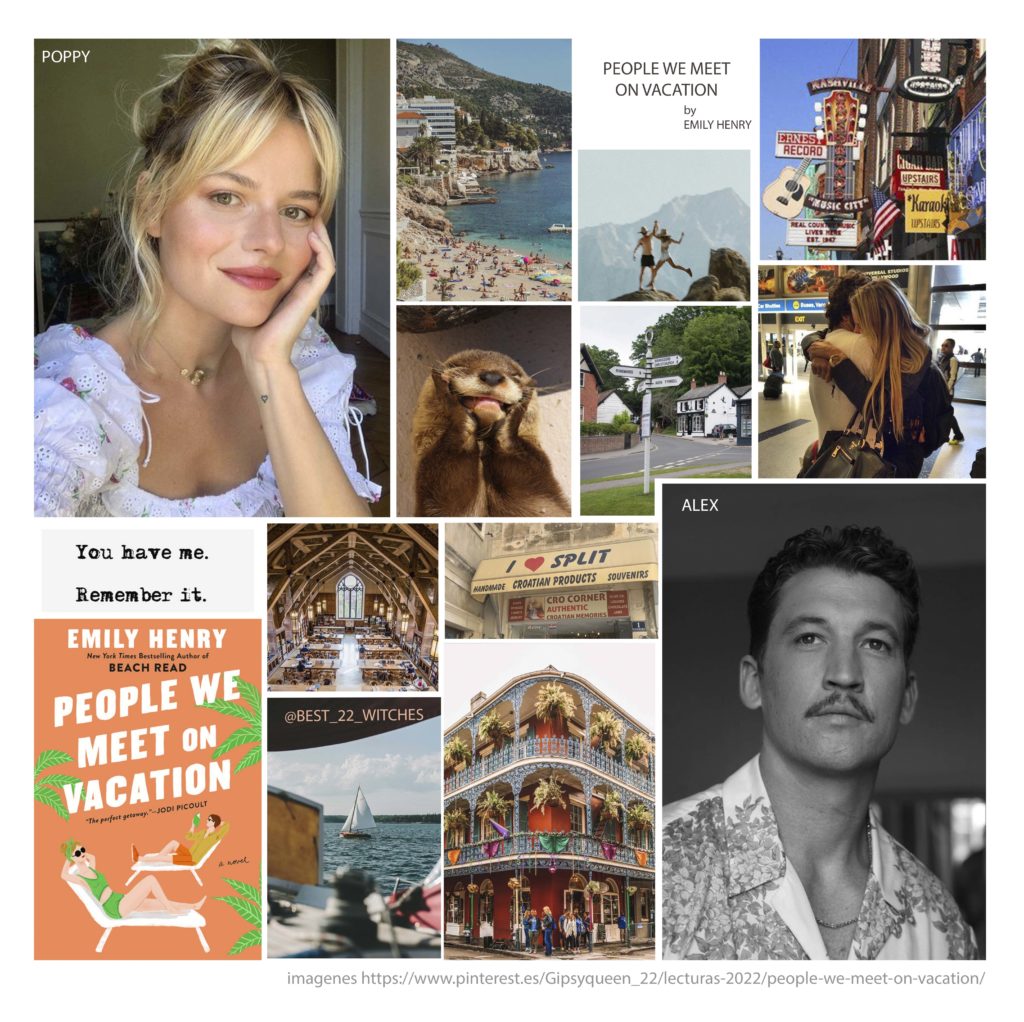 OPINIÓN PERSONAL TRAS LA LECTURA
"People we meet on vacation" un libro de @emilyhenrywrites publicado por @berkleyromance
Leer a Emily Henry siempre es un acierto, todos sus personajes protagonistas en los tres libros que llevo leídos de ella, tienen que ver con la literatura y eso imagino va a ser una marca de la autora.
La autora de "la novela del verano", que creo que muchas la habéis leído ya, puesto que esta traducida al castellano.
Aixx Poppy, pero mucho más aixx Alex Nielsen…
Los mejores amigos, del mismo pueblo. Uno de aquellos en los que con el tiempo los hijos de los hijos de la familia "X" se ha casado con los hijos de los hijos de la "Y", y todo esta repleto de familias que se conocen entre sí y que seguramente, aunque lejanos podrían ser parientes.
Llevan toda la juventud viajando juntos, aun teniendo pareja ellos tienen su viaje anual juntos donde no les importa dormir en un Gesthouse o a la intemperie, lo importante es lo que disfrutan en esos viajes de la compañía del otro.
Alex es unos de esos personajes tranquilos y en su sitio, interesante a más no poder, y que siempre te da ganas de descubrir más de él.
Poppy, es más activa, viajera, constante y organizadora. Ambos crean un tándem de lo más especial.
Pero algo pasa en uno de esos viajes, un secreto que sus corazones quieren gritar a voces pero que permanece encerrado hasta que llegue el momento.
Con anécdotas y lugares fascinantes unos personajes entrañables y un libro que cuando acabas te da unas ganas tremendas de viajar, así a la aventura. Al ir al lugar, e inventar.
Gracias por la inspiración Emily, como siempre un placer.
¿Habéis leído a la autora, os gusta su pluma?
Emily, gracias por la tinta*

RESEÑA by Lara C. Cakmak (Best_22_Witches)