SINOPSIS
Shortcomings, Adrian Tomine's first long-form graphic novel, is the story of Ben Tanaka, a confused, obsessive Japanese American male in his late twenties, and his cross-country search for contentment (or at least the perfect girl). Along the way, Tomine tackles modern culture, sexual mores, and racial politics with brutal honesty and lacerating, irreverent humor, while deftly bringing to life a cast of painfully real antihero characters. A frequent contributor to The New Yorker, Tomine has acquired a cultlike fan following and has earned status as one of the most widely acclaimed cartoonists of our time.
Shortcomings was serialized in Tomine's iconic comic book series Optic Nerve and was excerpted in McSweeney's Quarterly Concern #13.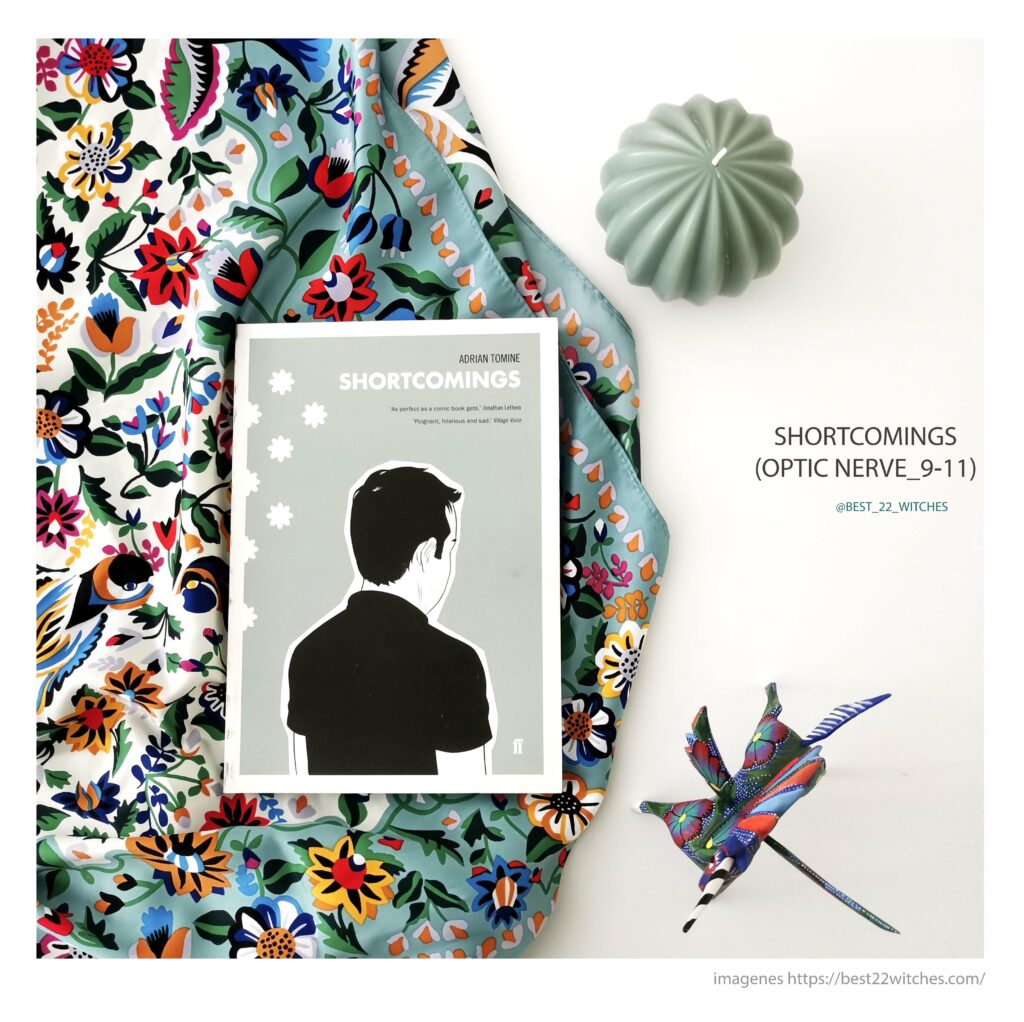 OPINIÓN PERSONAL TRAS LA LECTURA
"Shortcomings" de @adriantomine publicado por #faberandfaber
He querido arrancar cada una de las páginas de esta novela gráfica, Ben es el personaje más repugnante que he leído, en su actitud en general. En las relaciones y hasta en su propia personalidad. ES DESPRECIABLE.
Y por eso me ha gustado muchísimo, porque hay gente así por el mundo, y nos acostumbramos a protagonistas idealizados o reconvertidos.
Aquí nadie se salva, me han caído mal todos, me han gustado por ser tan reales. si que es cierto que en las novelas gráficas que suelo leer, sobre todo de cómic europeo, los personajes son bastante naturales.
voy a seguir leyendo el resto de la serie porque ahora si que me ha picado el gusanillo del autor, y es que cuando encuentro un novelista que me gusta intento exprimir todas sus historias.
Reto conseguido chicas, a por el siguiente*, mejor dicho… a darle caña al siguiente 😛
Aldrian, gracias por la tinta*

RESEÑA by Lara C. Cakmak (Best_22_Witches)