SINOPSIS
Charlie, a highly-strung, openly gay over-thinker, and Nick, a cheerful, soft-hearted rugby player, meet at a British all-boys grammar school. Friendship blooms quickly, but could there be something more…?
Charlie Spring is in Year 10 at Truham Grammar School for Boys. The past year hasn't been too great, but at least he's not being bullied anymore. Nick Nelson is in Year 11 and on the school rugby team. He's heard a little about Charlie – the kid who was outed last year and bullied for a few months – but he's never had the opportunity to talk to him.
They quickly become friends, and soon Charlie is falling hard for Nick, even though he doesn't think he has a chance. But love works in surprising ways, and sometimes good things are waiting just around the corner…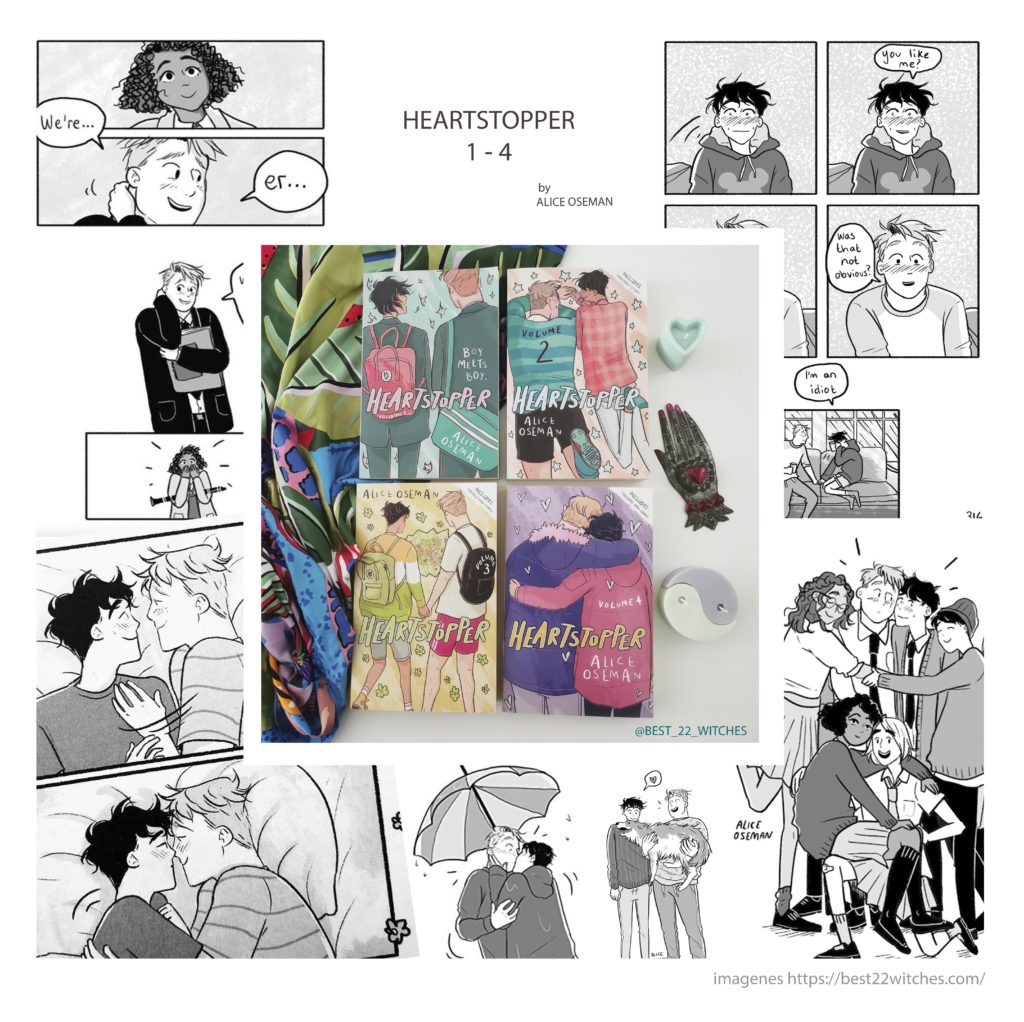 OPINIÓN PERSONAL TRAS LA LECTURA
"HEARTSTOPPER" de @aliceoseman de la editorial @hachettekids
Por fin ya he terminado la serie y es muy fiel a la historia contada en la novela. Hi! Hi!
Admito que lo que más me ha gustado es cada uno de los personajes, unos actores fantásticos que han logrado transmitir al máximo todo lo que había sentido en la lectura, con el plus de tenerlo en 4D.
La primera temporada es más o menos el primer y segundo libro de los cuatro publicados.
Además, es que veía a Alice Oseman pintando las paredes del instituto Truham tal cual lo están en la novela gráfica.
En el primer libro la historia del primer amor, que poco a poco en los libros siguientes va cogiendo fuerza y van pasando por varias etapas de la adolescencia.
Es una historia de amor tan bonito y puro, no solo entre ellos, en la amistad, en la familia y en la comprensión de todo lo que les rodea… que como siempre no es fácil.
Me encanta el apoyo que transmiten cada uno de los personajes para sus compañeros y esa fuerza que hasta Aled que es el que menos habla, tiene.
En las novelas tenemos hasta un viaje a España, donde Nick visita a la familia. Así que quien sabe, quizás dentro de poco los tenemos rodando por Menorca*
Si no los habéis leído ya estáis tardando que se leen muy bien, y si no, pues a ver la serie, y enamoraros de ésta historia.
Alice, gracias por la tinta*

RESEÑA by Lara C. Cakmak (Best_22_Witches)